Custom Injection Mold Building
Mold Building is a fundamental building block to successful injection molding. If not done with careful consideration, you risk getting unsatisfactory results. Even the best effort using state of the art tool technology doesn't result in an acceptable outcome. That's why you need a company with not only the right injection mold building equipment, but the expertise to get the job done right. We live with the results of our mold building for many years to come.
Plastic Mold Building Experts
HiTech Plastics and Molds is a custom injection plastic manufacturer focused on plastic injection molding and mold making. Our molding shop has a combined experience of over 30 years, and we have a strong network of engineers throughout the U.S. to assist us with challenging situations. Access to such a large pool of experts gives us the ability to handle projects other manufacturers won't touch.
Our team gets involved from the ground up to help you create a molding solution that takes maximum advantage of our processes. We work with your tooling budget to create a custom mold that meets your design needs and are committed to delivering high-quality products on schedule. Contact our sales team today to discuss your custom mold building needs.
Quality-Driven & Cost-Effective Thermoplastic Mold Making Processes
Successful plastic mold building often requires multiple iterations of part design and mold modification to reach a successful outcome. Our engineers review your 3-D drawings carefully for accuracy and correct any design issues before we start. This essential first step helps us determine what's required to achieve molding success.
We also use computer simulations of the molding process to identify unforeseen technical roadblocks to successful molding. Finding these issues right away reduces the number of iterations required to reach satisfactory part geometries, thereby reducing the time and cost of manufacturing your products.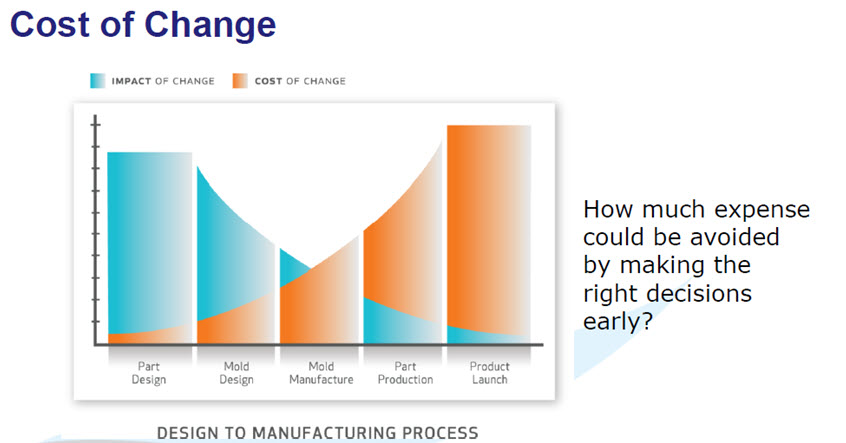 Tooling Support carefully monitored and often finished ahead of schedule.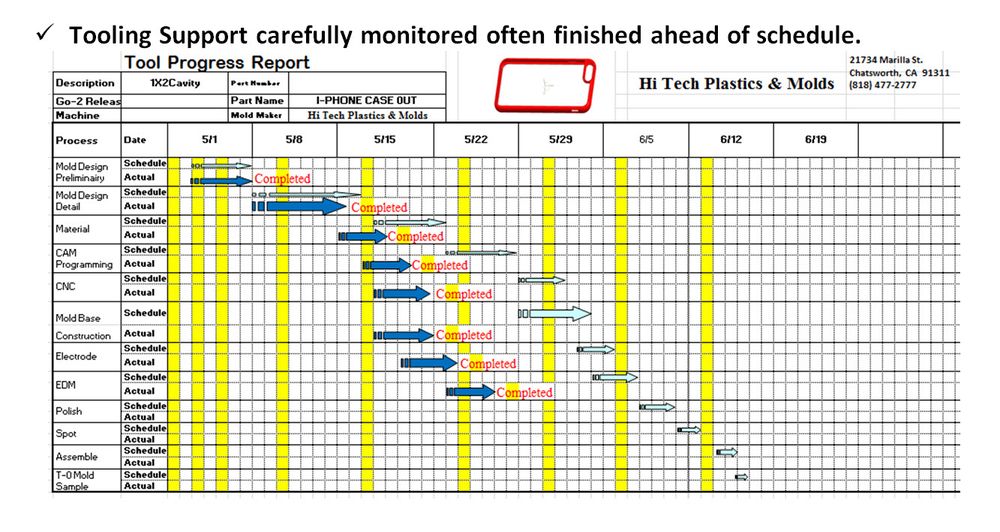 Technology & Expertise Ensure A Successful Mold Design
HiTech has a complete set of mold design and manufacturing capabilities, including 3D modeling, CAD, and CAM as well as CNC 3 axis machining, EDM, and CNC turning equipment, pantograph, optical comparators and Real-Time capable computer tracked production equipment.
Our mold makers can create your custom plastic mold from a concept, CAD files, and/or rapid product prototype. The in-house design and mold making team uses a combination of SolidWorks, Auto CAD and professional design partners in enhancing your product design. Using SolidWorks Premium Software allows us to simulate the molding process before we build your mold. Once we finalize the design, you can request a rapid prototype using 3D printing to see how the part will look and feel.
We focus on quality and collaborate with your company's engineers through each stage of mold making, including planning the mold, the number of mold cavities, special cooling requirements, inserts, hot runner systems, or any other factor contributing to success.
HiTech Plastics and Molds has experience with the following types of injection mold building:
2-Shot Injection Molds
Multi-Cavity Molds
Large Part Molds
Precision Molds
Thin Wall Molds
Insert Molds
Hot Runner Molds
Family Molds
Prototype Molds
SPI Class 101, 102, 103, 104 and 105
Aluminum Molds
Injection Mold Making Classifications
Different classifications should be considered when building a mold. The classification categories designate the number of cycles the mold will repeat before "wear and tear" of the mold. The mold class selected depends on the number of parts manufactured per year. For example, a mold made for high volume production, multi- cavities, and a long product life expectation will be built to the highest classification.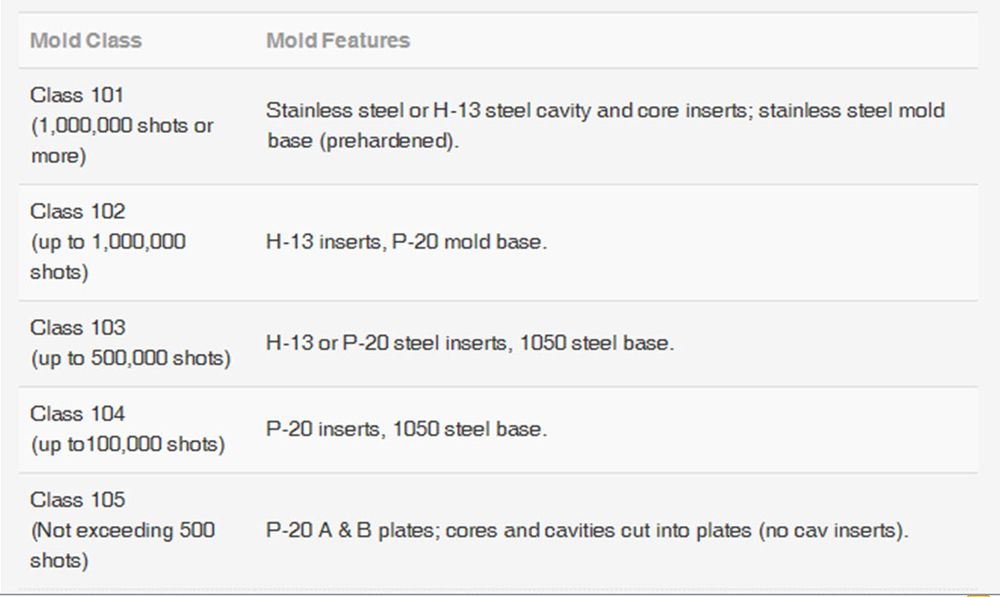 Plastic Injection Mold Repair and Maintenance
Sometimes molds need minor repairs after long-term use. We have a complete tool room for maintenance and repair of your molds. You can trust our expert toolmakers to repair your plastic injection molds while maintaining your design's precise tolerances.
Call Us to Discuss Your Thermoplastic Mold Making Requirements
Trust HiTech for your next injection molding project. Call us at (818) 477-2777 or email info@hitech-plastics.com for general questions.  If you already have a mold design in mind, submit your RFQ and we'll get in contact with you to discuss our process.