Achieving Precise Plastic Injection Mold Tolerances for Military Parts
Hi-Tech Plastics and Molds takes a scientific approach to mold design analysis. With a team of in-house molding specialists and a nationwide network of precision molding experts, we can tackle any injection mold design challenge.
After working with mechanical engineers who were unable to meet their requirements, a customer approached us to develop a new generation of products in support of military and government demand.  They had previously worked with mechanical engineers who had little to no plastic knowledge and were designing a mold with tolerances that were unachievable for many reasons.
The Challenge: Precision Mold Development on A Tight Deadline
The customer was on a tight deadline and required exceptional precision and quality to meet stringent industry standards. They needed a plastic injection molding company with the expertise to develop a mold quickly, and with the precise tolerances their application required.  The client also supplied no specific engineering requirements for material strength and rigidity, entrusting our engineers to find a suitable option for the application.
The Solution: 3D Modeling and Scientific Material and Design Analysis
Our first goal was to select a material best suited for manufacturability and product performance. Finding the right material is crucial for performance and to avoid potential warpage or shrinkage differences caused by part orientation. The material requirements included:
Low shrink, relatively rigid, and amorphous material
No fibers or fillers
Next, the engineers further quantified the material selection by determining best practices in mold design and molding techniques to build the product.  The molding team had to figure out the best possible gating scenario based on filling, pressure, shear rate limits, and packing/compensation ability.
Analyzing scientific molding studies helped the team discover ways to minimize warpage and optimize processing parameters. Their scientific molding and engineering methods included:
Design for Manufacturability: 3D modeling and complete Mold Optimization studies were completed using Autodesk Moldflow Insight. 
Validating the Theoretical: Our engineers used Scientific Molding studies to narrow down the numerous material and design options. Validation helps us get a best-case outcome with 1st generation tooling before production begins.
Initial Autodesk Moldflow Insight for the Part Material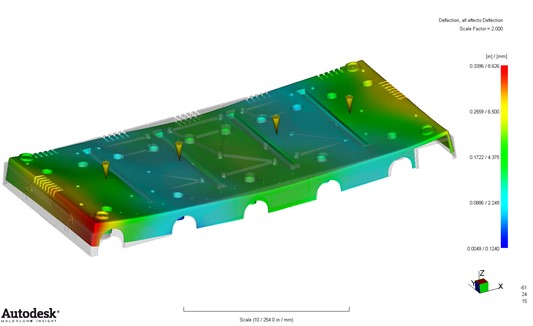 Using Autodesk Moldflow Insight to Determine Material Impact on Warpage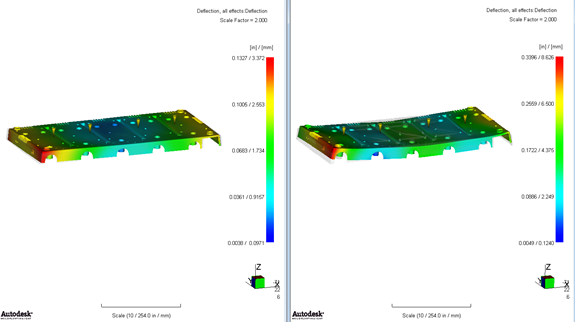 Predictable Shrinkage Using Autodesk Moldflow Insight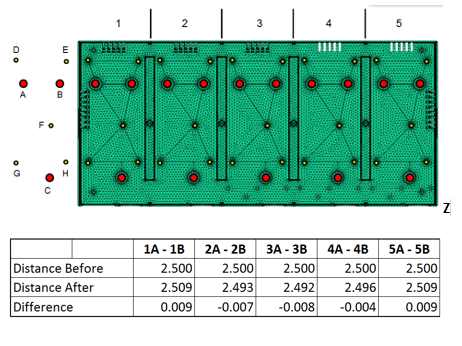 The Results:
HiTech guided the material selection, mold design and build, and production tooling to a very desirable outcome.  Our team not only exceeded the customer's expectations for injection mold design and material but beat their expected deadlines for completion by nearly a month.
Delivering Exceptional Precision and Quality for Your Injection Mold Design
Our engineering team's scientific molding expertise and high quality standards help clients achieve success in their injection molded part design. Visit our work gallery to see more examples of completed projects or contact us to discuss your mold design concept.