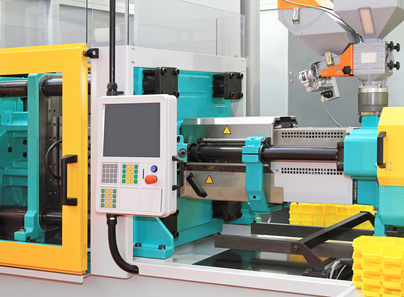 Injection Molding machine
FAQ
HiTech Plastics and Molds is an industry leader in custom plastic parts injection molding manufacturing. No matter your industry or planned plastic component, we have the experience and knowledge to help you efficiently produce consistent plastic products at competitive costs. We are your go-to source for all injection molding manufacturing services, products, and industry resources for sustainable plastic solutions.
Injection Molded Plastic Parts FAQ
What are Common Processes to Manufacture Custom Parts?
When you're looking to partner with a plastic parts manufacturer, you usually want to mass manufacture your components. There are several processes commonly used to accomplish this goal:
Injection Molding: Injection Molding is a cost-effective manufacturing solution for plastic parts with quick turnaround times. However, to achieve the low production price that injection molding affords, an upfront investment in custom molds and tooling is required to meet the unique specifications of your product.
Thermoforming: Thermoforming features a lower up-front cost and quicker turnaround time for larger plastic parts. However, thermoforming is not a good fit when secondary services such as in-mold decorating or overmolding are required.
Rotomoting: Rotomoting is ideal for parts manufacturing that results in a soft, squishable component such as rubber ducks.
CNC Machining: Machining is a common way to produce consistent, repeatable small components. While production costs are high, CNC machining creates parts with a high-quality surface finish. Based on product specifications, HiTech Plastics and Molds will perform CNC Machining as needed.
How Do You Mass Produce Plastic Parts?
The most common way to mass produce plastic parts is through a manufacturing process called injection molding. Injection mold manufacturing works through injecting molten thermoplastic material into a mold. Inside the mold, the plastic cools and hardens into your custom part. It is then ejected and can move along to inspection, delivery, or a secondary service for further processing.
If your component requires more complexity, such as varying polymer materials, colors, or other aesthetic considerations, 2-shot injection molding is also an option. 2-shot injection molding involves injecting two thermoplastics into a single mold to create a molecular bond that prevents the two resins from separating.
What Types of Materials are Available for My Plastic Part Manufacturing?
Engineering grade materials are used in industrial applications requiring material certification and traceability. The attributes of the material used will depend on the planned project. Our available engineering grade plastics include:
Commodity plastics are produced in high volumes and make up most plastics used daily. However, they have weaker mechanical properties when compared to engineering grade polymers. Our commodity plastic materials include:
What is Low Volume Injection Molding?
Low-volume injection molding is a process used when you want to produce a smaller quantity of products. Traditionally, injection molding is used for production runs that result in a large output of products to offset the high initial price of building the mold. As the market evolves toward custom and small-batch plastic parts, low volume injection molding has become more prevalent.
Low volume injection molds are made of less expensive material, such as aluminum, instead of the traditional hardened steel, allowing shorter lead times on smaller orders without compromising quality. This process is best suited to smaller plastic parts manufacturing runs aiming to produce simpler components when you are looking to save on initial costs.
How Many Plastic Parts Can an Injection Mold Make?
Your custom injection mold can make thousands of plastic parts with no degradation in quality. The first plastic part manufactured will be identical to the 900th. This consistency and repeatability are two of the main advantages of choosing injection molding as your plastic parts manufacturing process.
How Many Times Can an Injection Mold Be Used?
The lifespan of your injection mold will vary depending on the number of plastic parts manufactured and the time the mold is used for production. Some molds can produce 100,000 parts, and others will create upwards of one million parts. Through regular maintenance and upkeep, you can extend the life of your injection mold.
How Long Does Injection Molding Take?
Injection molding is a relatively quick plastic parts manufacturing process. A single cycle lasts anywhere from a few seconds to a few minutes. Factors that impact the timespan to create a custom plastic part include:
Complexity of the component
Material used for molding
Mold and part design
And more.
Injection molding machines have the capability of running at all hours of the day, maximizing your overall production opportunities and mass-producing plastic parts faster than other processes.
What are the Limitations of Injection Molding?
While injection molding has many advantages in manufacturing plastic parts, it comes with a few limitations, including:
High upfront costs for molds, tooling, and setup
Restrictions on designs, such as avoiding under cuts, using uniform wall thicknesses, and others
Small part runs can be more expensive
While these limitations must be taken into consideration while considering your manufacturing process options, it's important to keep the benefits of injection molding in mind as well: heightened customizability, plastic parts produced with enhanced strength, excellent color control, and much more.
HiTech Plastics and Molds FAQ
Is HiTech ISO Certified?
Yes—HiTech Plastics and Molds achieved ISO 9001:2008 and AS9100:Rev B certification in August of 2010.
Where is HiTech Located?
HiTech is in Valencia (Santa Clarita), CA, at 25620 Rye Canyon Rd., Unit B. We are close to the San Fernando Valley and easily accessible to Los Angeles and its surrounding communities.
How Do I Contact You for a Quote?
Request a quote today via our online form. You can also call our main switchboard number at 818-477-2777 or contact us with questions, concerns, or to receive further information.