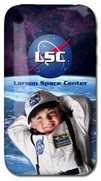 Custom In-Mold Decoration for Thin Wall Molding
Achieving high-quality graphics, especially in thin-wall injection molding, takes expertise. Our engineers pair their in-mold labeling experience with scientific molding methods to achieve exceptional results.
A customer that develops patents for direct printing on acrylic & polycarbonate films approached us for in-mold decoration (IMD).  This complex printing method achieves exceptional color compared to digital printing and allows the use of various colors, patterns, and textures. The customer selected iPhone 3G and 4S phone cases to showcase this technology and needed a manufacturer that could dramatically improve the graphic quality molded into the phone case.
The Challenge: Thin Wall Injection Molding with Films
Our client required a thin acrylic phone case with crisp images and vivid colors. Based on the theoretical design, it was unclear whether the desired wall thickness would work when molded with films.  They also needed the product to have mass customizable decorative capabilities and be very scalable, from low volume to high volume production.
The Solution: Using Scientific Methods to Meet Cosmetic Standards
Our engineers created computer simulations with Autodesk Moldflow software to determine the theoretical wall thickness. Addressing the needs for design, material, and manufacturability involved close vertical collaboration during each stage:
Product concept
Product design for manufacturability and scalability
Mold design to optimize for the in-mold decoration cycle time and warp.
Material selection and testing
Film selection and testing was an iterative process to eliminate burning and washout. The client's demanding cosmetic standards required us to individually test and match film type and thickness to a plastic resin with a unique moldable heat profile.
Scientific molding toolbox for data collection played an essential role in the lengthy process of selecting the right materials for this demanding thin wall injection molding application.  One of the interesting results of this product development was the molecular bonding that took place when the part was properly molded preventing delamination.
The manufacturing process included these steps:
Step 1: We direct printed films utilizing patented technologies.
Step 2: The film was thermoformed to match the profile curvatures of the cell phone case.
Step 3: Thermoformed sheets are die-cut for the final machining of cut-outs.
Step 4: We used multi-axis CNC equipment to machine a camera hole and side cut-outs.
Step 5: The engineers molded each part individually with statically charged preforms.
The Results: In-Mold Decoration with Photographic Quality
Using patented IMD processes, we achieved a full-color design with photographic quality. Digital workflow allowed us to decorate each cell phone case individually while staying consistent in the design and printing.
Our team achieved this success because of our extensive tooling knowledge and injection molding expertise. Using custom in-mold decoration helped us meet all the client's design requirements. And our in-house secondary service capabilities allowed us to keep the lead times short.
We Offer Scalable Solutions for Thin Wall Injection Molding Projects
HiTech Plastics and Molds has a strong commitment to quality and customer service. We offer complete, in-house solutions for your in-mold labeling project, from custom mold building and injection molding to secondary services like part decorating and assembly.
Our in-house engineering team can produce virtually any graphic and have low minimums to accommodate projects of any type.
Contact our engineers
today to discuss your requirements.